"I used to manage one contact center of 18,000 agents, and now I need to manage 18,000 contact centers of one agent."
That's an exact quote I recently heard from one of our customers. No, this is not another article about how work has changed under the weight of Covid and employees going remote. It's about a superpower to manage 18,000 single-agent contact centers working from anywhere – the one-two punch of Amazon Connect and Centrical's employee performance and engagement platform.
Contact Center as a Service (CCaaS) describes software as a service (SaaS) based contact center applications that enable customer service organizations to holistically manage multichannel customer interactions in the cloud.  It holds many advantages over on-premises contact center solutions as no hardware purchase or maintenance is required, and it's usually current as providers keep adding new features and updates which become immediately available to customers. CCaaS solutions stand out, even more, today because many agents are no longer working on-premises, so why should their platform be on-premises?
The human factor
I recently attended re:Invent 2021, the annual AWS (Amazon Web Services) conference. It was big, impressive, educational, and everything you would expect from one of today's most innovative companies. I visited the conference for the first time as a partner of AWS with our new out-of-the-box integration with Amazon Connect.

It was inspiring to see the AWS team's attention to customers' needs in developing new features and capabilities for Amazon Connect.  I have no doubt that CCaaS is the way for big contact centers and BPOs (business process outsourcers) to run their business from anywhere operationally.
But contact center operation, regardless of how smooth and efficient, is not enough if you're not paying attention to the human factor, the agents.  Your contact center might be providing a highly responsive and agile omnichannel experience. It might also be more cost-efficient, but you'll still find yourself dealing with low levels of agent engagement, productivity issues, high turnover rates – and the bottom line? Each of these factors diminishes customer experience.
Proof in numbers
This observation was reinforced by AWS team members that we met at the conference.  They too agree a complementary business solution that supports employee performance and engagement is what contact centers need to maximize the benefits of their CCaaS investment.
Metrics we collect from our customer implementations around the globe reflect Centrical's performance impact.  We see improvement across all agents' KPIs with up to 20% increase in productivity, 23% decrease in employee attrition, and 12% decrease in absenteeism.  This means substantial cost reductions for our clients and increased customer satisfaction tracking up to 10% higher.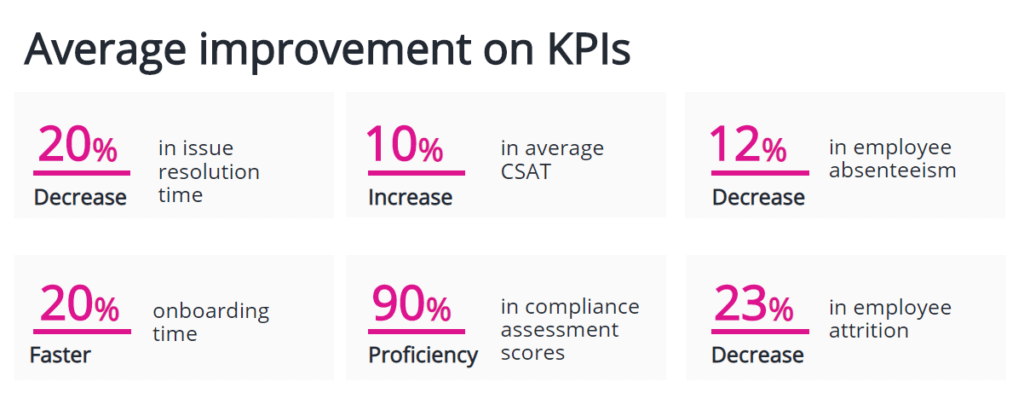 Personal attention at scale
Overseeing 18,000 one-agent contact centers requires that each agent receives personal attention, which Centrical enables. With Centrical, agents might be working from home, but they're never alone. They're part of a virtual team working towards a common goal.

They always know how they're performing and what to do next to improve. Our platform helps agents improve against their previous performance and become a better version of themselves.  At the same time, it shows their contribution to their team and influences their sense of belonging.  It offers microlearning options based on actual performance, to ensure sharp skills and the opportunity to learn and grow while providing kudos and recognition for a job well done.
With Centrical, managers are a short distance away from every agent – even if they are countries apart. The platform alerts them on issues that require their attention, good or bad. This allows managers to reach out to agents with various coaching actions, or a good word, precisely when it's needed.  We know firsthand from our customers – many top brands around the world – that agents working from anywhere feel more supported by their managers working with Centrical, even more than in the past working on-premises.
Contact centers are our bread and butter – and this is where we shine. Regardless of whether your platform is on-premises, or you've already migrated to CCaaS, a good agent engagement and performance platform is a must-have solution. Centrical can integrate with any platform and just about every available contact center application, CRM, WFM, and survey tool out there.
So, you might be looking at a CCaaS platform to manage the operations of your new 18,000 single-agent contact centers (or more…) working from anywhere, but don't forget the actual agents.  Make sure you enable their success with an employee performance and engagement platform to fully maximize your CCaaS investment.
Want to learn more about Centrical and our new integration with Amazon Connect? Reach out to me at elad.bahat@centrical.com
About the author
Elad Bahat is Director of Business Solutions at Centrical.