Centrical fully acknowledges the importance of creating accessible solutions and enhance the overall workplace environment and contribute to the productivity of our customers and their employees.
The centrical platform meets the Web Content Accessibility Guidelines Version 2.1 (WCAG 2.1) at a minimum "Double-A" (AA) rating. We seek to ensure that Centrical application is accessible to people who use assistive technologies.
To ensure that our application continues to offer a high level of accessibility, we perform periodic accessibility audits using a range of testing tools. While Centrical strives to adhere to accepted guidelines and standards for accessibility and usability, rapid changes in technology mean is it is not always possible to do so in all areas of the application. We are, however, continually seeking solutions to address accessibility issues.
What have we done?
We would like to highlight the following accessibility features: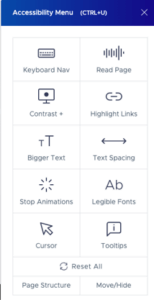 Color contrasts that assist with accessibility
Keyboard navigation
Text Manipulation: Size/ Spacing/ Fonts
Highlight Links
Supporting 'Text to Speech' assistive technologies by supporting the ARIA standard