What is Employee Performance Experience?
A method of improving operational performance and customer experience by personally guiding frontline employees across every stage of the employee lifecycle.
What is the Performance Experience Methodology
It is no secret that engaged, high performing employees create amazing customer experiences. A performance experience is a method of improving productivity, employee retention, and CX by personally guiding and inspiring frontline employees across every stage of the employee lifecycle. While traditional performance management solutions are reactionary and top-down, a performance experience flips the pyramid, taking an employee-centric approach to performance to meet the expectations of today's employee.
It's the only way to win in today's market.
Why? Because employees' expectations have changed. And when their experience meets their expectations, they succeed – which means you succeed.
OLD VS NEW


The Performance Experience Gap
When performance management, learning, coaching, quality, and wellbeing are siloed and non-personalized, we call this the Performance Experience Gap. But, with the right technology, and the power of AI, it's easy to bring together these critical elements of the employee experience to guide employees to perform at their best.
Swipe Across to Reveal
New


Performance Experience Methodology Strategies
The PX methodology can be applied in four ways across the employee journey.


Align
Setting employees up for success by aligning them with their goals and making their progress visible so they are clear on expectations.


Engage
Creating a sense of purpose, building meaningful connections, and making the experience fun and rewarding so employees are motivated to succeed and invested in their success.


Perform
Providing employees the knowledge, skills, and support they need, in the moment they need it, to empower them to reach peak performance.


Optimize
Continuously re-aligning, listening, and responding to employees to ensure their needs are met and that their experience is frictionless.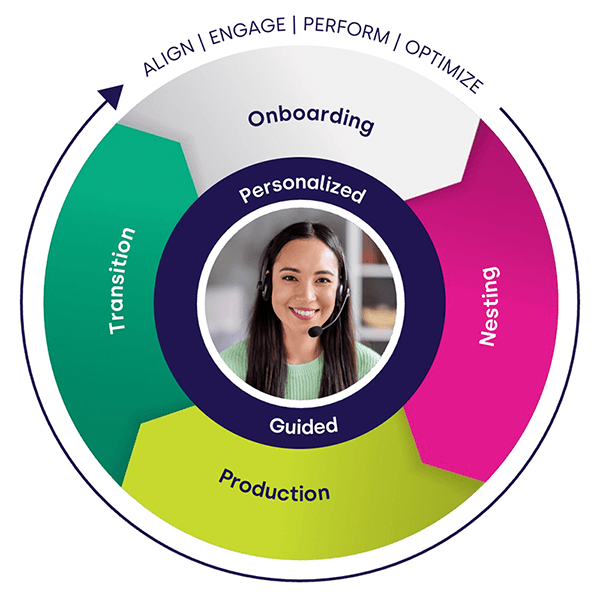 Creating an Optimal Performance Experience
Provided below are steps you can take to incorporate the performance experience strategies throughout the employee lifecycle to help you:

Deliver better customer experience

Reduce operating costs

Improve service, quality, and sales

Retain more talent and increase employee lifetime value
Creating a Performance Experience Across the Employee Lifecycle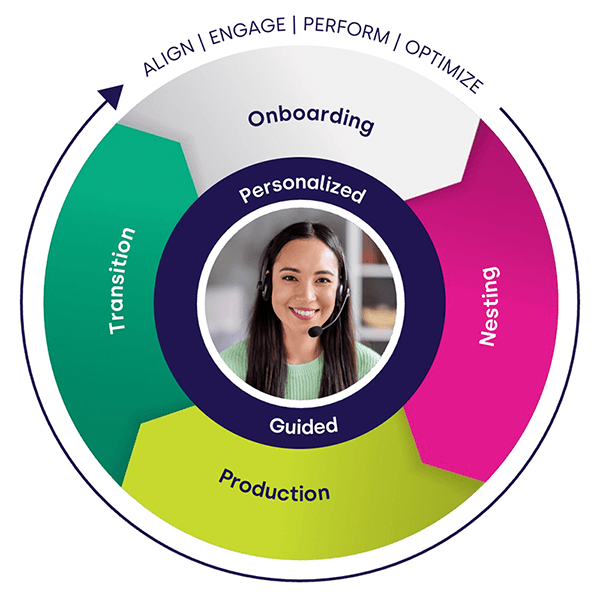 ‹
›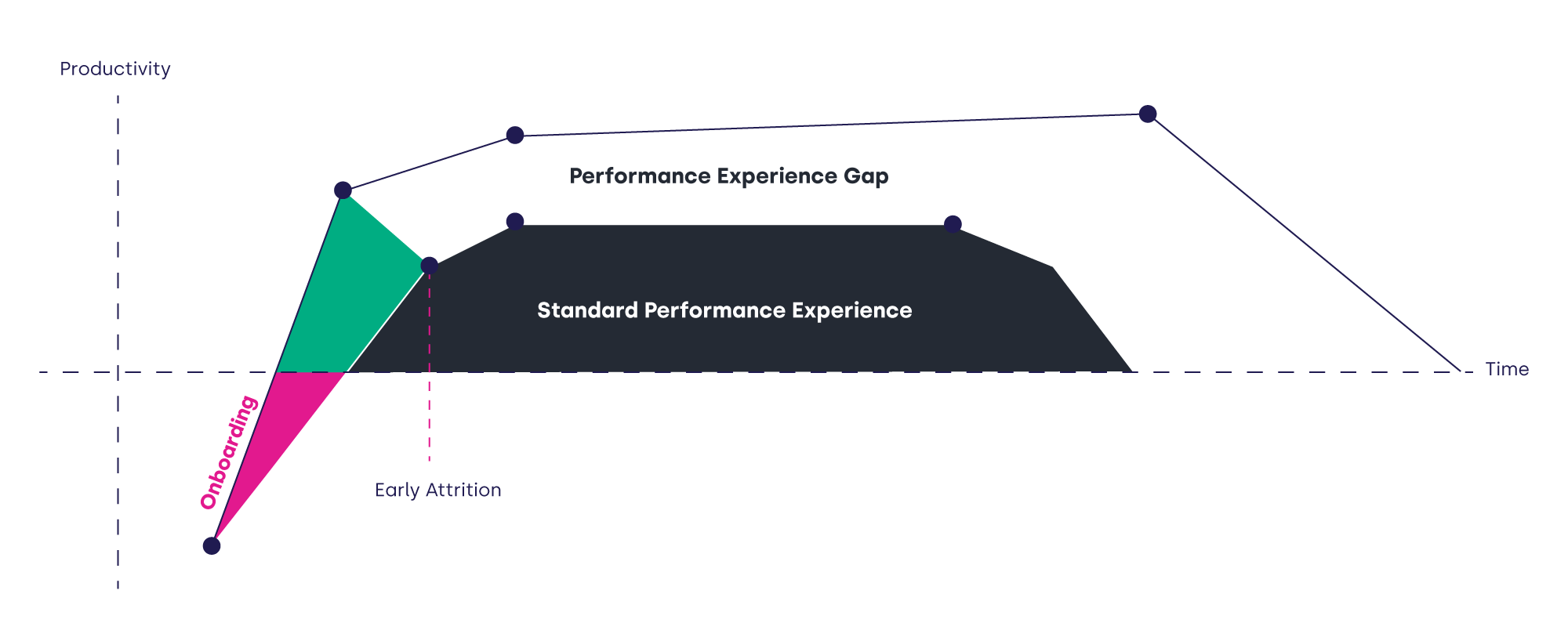 Stage 1
Stage 2
Stage 3
Stage 4
Stage 1:

Onboarding
Because many frontline employees are new to the role or entering the workforce for the first time, the onboarding process can be both intimidating and overwhelming, making it difficult to ask questions or know where to go for support, especially in remote situations. Left unsupported, employees with poor onboarding experiences drive down quality and service levels, lower efficiency, and cause costly early attrition.
This is why frontline organizations must implement performance experience strategies during onboarding.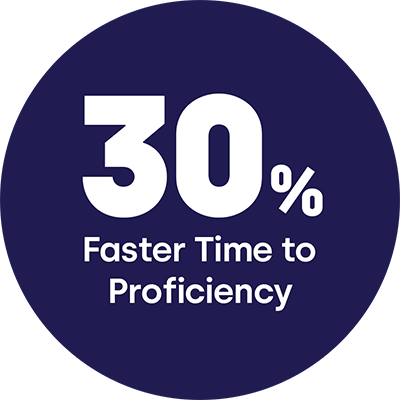 Stage 2:

Nesting
The nesting period enables employees to build their confidence by further developing their skills before transitioning to production, particularly knowledge and skills around products and services, customer interaction handling, and internal systems and procedures. When applied during this stage, PXM strategies ensure employees become proficient faster, while creating a strong foundation for engagement.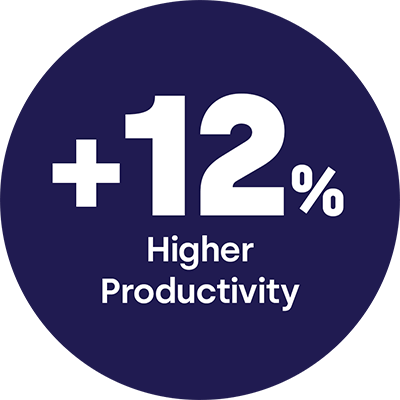 Stage 3:

Production
Tenured employees are more productive and skilled than new hires, which makes retaining them a critical component to meeting service, quality, cost, revenue, and satisfaction goals. The PXM strategies can help you keep production employees aligned, engaged, and performing at their best to help you achieve these goals.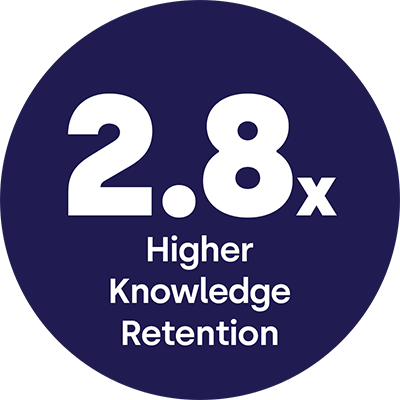 Stage 4:

Transition (Reboarding, Offboarding)
While it's inevitable that some employees will attrit, effective performance experience strategies can limit attrition by providing opportunities for employees to grow within the organization, helping employees effectively transition into new roles, and if they do move on, leave with positive sentiment. These factors all contribute to employer brand and help your company not only retain top talent, but attract future talent as well.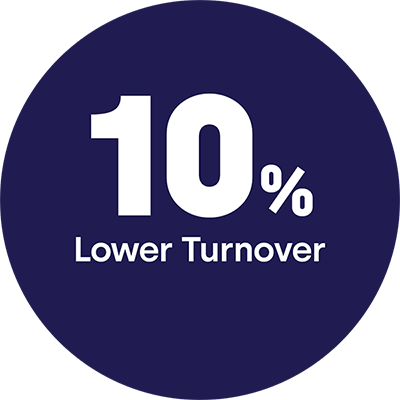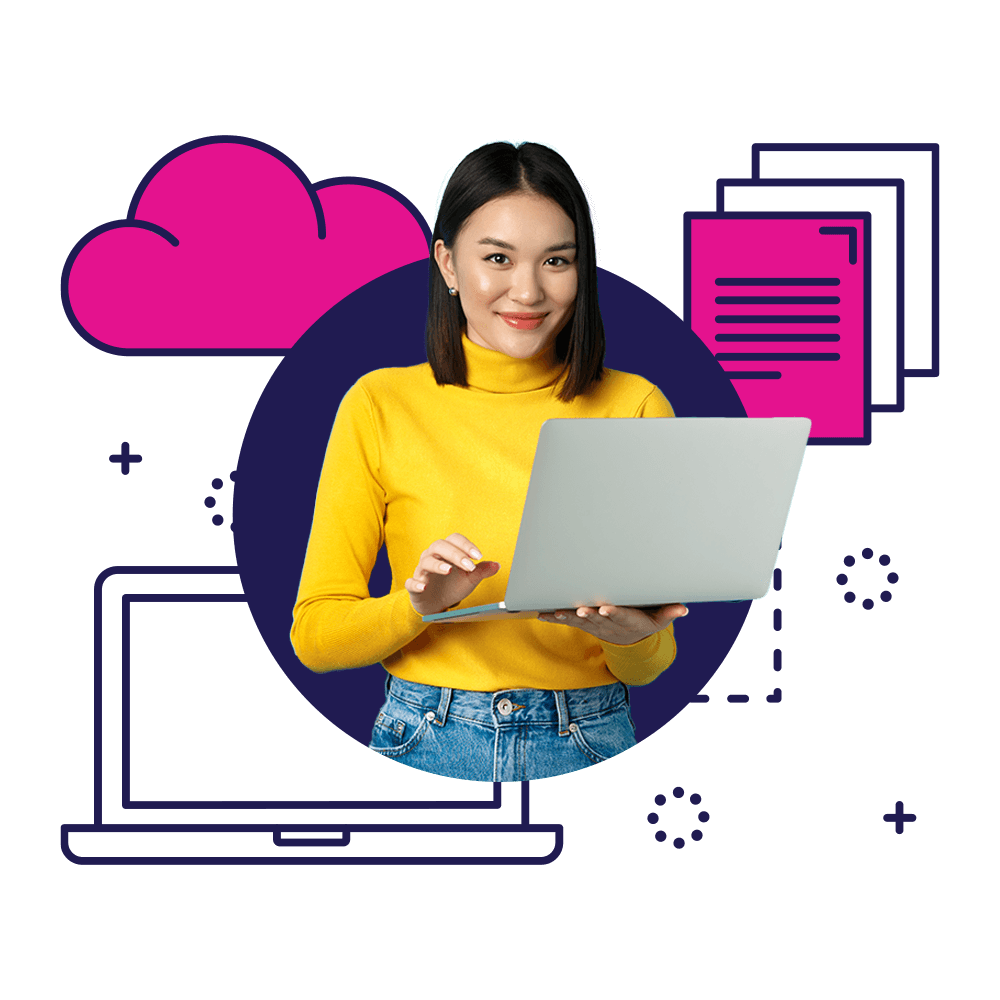 Using the Performance Experience Methodology for Frontline Operations
As a frontline operations leader you understand how your employee experience impacts customer satisfaction, brand loyalty, and growth and why investing in a performance experience is critical to achieving your customer experience management goals.
If you're just getting started, the performance experience methodology and the right technology, like Centrical, can provide a framework for your success.
Align Tools
Personalized Goals
Real-time Performance Visibility
Guided Feedback
Integrated Communications
Engage Tools
Gamification, Rewards & Recognition
Career Pathing
Real-time Coaching
Conversations
Social Knowledge Sharing
Perform Tools
AI-Powered Digital Coach
Performance-Driven Microlearning
Manager Insights and Coaching Recommendations
Gamified Goals
KPI Challenges
Optimize Tools
Actionable Analytics
Dynamic Goals & Smart Segmentation
Upskilling & Reskilling
Voice of Employee (check-ins, pulse checks, surveys)
Sign-up for the latest updates on
Employee Performance Experience
Close the Performance Experience Gap
Supporting the performance experience methodology is the Centrical platform, which includes all the tools you need to meet your employee expectations and customer experience goals.