In our new Centrical Green Room series, we'll host a "show after the show" where we take a deeper dive into topics discussed at select live events. In this inaugural series installment, Centrical Senior Solutions Consultant and host of the recent webinar "Reinventing the Wheel: Transforming the Employee Experience" Ian Chappell had a conversation with Centrical Content Manager Andrea Meyer, where they discussed the overall event, why meeting employee expectations can prevent attrition, and more. This webinar is now available on demand.  
Andrea Meyer: Ian, thanks for taking the time to speak. You kicked off this webcast with a glimpse at the current state of the contact centre. Can you give us a quick, high-level recap? 
Ian Chappell: First, it is a pleasure to chat with you! I wanted to speak about something other than employee engagement and employee experience, by bringing employee expectations into the discussion. When terms such as 'employee engagement' and 'employee experience' are overused, they lose their meaning. So, it got me thinking about where it all starts from in the employee lifecycle – and it all starts with employee expectations!  
AM: Let's discuss these terms a bit further. We often speak about the importance of employee experience, but why is meeting employee expectations so important? 
IC: If we look back beyond 10 years, employers were in control of the employee lifecycle – and to some extent, they still own a huge part. However, today's contact centre employees are in the driving seat, and they have options. In fact, I saw a remarkable stat late last year that attrition now isn't just employees leaving a contact centre to go and work down the road at another for a boost in hourly pay; rather, they're leaving the industry entirely.  
AM: Can you tell us more about how meeting employee expectations helps enterprises stem early attrition? 
IC: I was discussing this with a recruiter, who shared a story about a recent interview with an applicant for a frontline contact centre role. What struck her was the number of questions the applicant was asking about flexibility, short notice time off, working from home, charities they supported, etc. – to the point where the recruiter felt like she was the one being interviewed! 
I think this demonstrates perfectly how modern employees expect a lot more from employers than the traditional criteria of shifts, holidays, and pay. On the flip side, giving the applicant the full 'warts and all' view of the role and environment can go some way to stemming that 'job shock' which leads to early attrition!  
AM: The most difficult part of doing anything is simply getting started. Based on what you've learned from our customers, what would you recommend as a starting point for personalising the employee experience? 
IC: You've hit the nail on the head with the question – personalising! We need to spend more energy on getting to know our employees and building the relationship between frontline employees and their managers. For example, let's take coaching. Of the customers I speak to, 80% of them have old, dated manual processes which take their managers' time away from being that empowered collaborative coach. Removing this obstacle frees up time for managers to coach, and therefore, get the best out of their teams!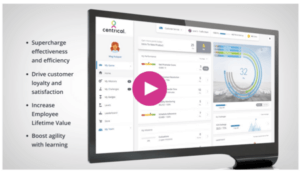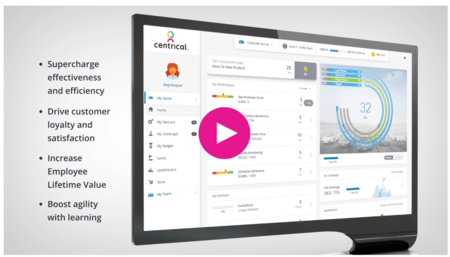 Want to learn more about Centrical? Click here for a quick preview.  
AM: How would you say Centrical supports the Three Pillars you mentioned?  
IC: There are so many ways Centrical supports the Three Pillars (ownership, connection, and support & recognition). But one major theme in supporting them is 'visibility' in one place, whether that is giving a full view of performance with self-guided actions to improve, being able to share best practices and collaborate with peers or even tapping into our competitive side with gamification! If I can see the 'where, why, what, how, and who' I have a chance of doing great things!  
AM: You regularly speak to our customers about the employee experience and meeting employee expectations. From these conversations, what is one platform feature that leaders have found especially helpful in this capacity, and why? 
IC: The platform as a holistic view of performance, coaching, learning, and collaboration underpinned with gamification is itself THE key feature as it's a 'single pane of glass' for both employees and managers. Putting that ownership and visibility back into the hands of those that it impacts most is so powerful. 
However, if I had to pick one specific feature, I would say our 'Coaching Insights' as it really allows managers to a) get their heads out of reports, but b) empowers them to directly impact the experience of their staff in the time of need. It's incredibly powerful.   
AM: From the perspective of an operations leader, what do you think are some of this webcast's key takeaways? 
IC: In no particular order, I would say: 
Empower managers to be effective. Reduce the noise and admin tasks that take up their time!

 

Employee engagement has lost its meaning – but getting it wrong is an output of getting the experience wrong. The expectations of the employees feed the experience. 

 

Younger demographics need to feel part of something. Personalisation, collaboration, opportunities, and visibility are some of the key things to get right.

 

Make sure the role is exactly as it's sold to the applicant from day one to reduce 'job shock' and the almost-inevitable early attrition.

 

Remember that frontline employees are now almost all 'skilled' workers due to the complexity of the work and the contacts they deal with!

 

Finally, remember to celebrate the wins, big or small.

 
AM: As we all know, 2023 is projected as a year where enterprises will likely have to do more (especially the mission-critical) with fewer resources. How does Centrical help enterprises in this capacity? 
IC: The 'more with less' conundrum is something of a tightrope walk, especially in a challenging climate – whether it's the current financial climate or a situation like we saw in lockdown! 
On one hand, businesses must think about how to be efficient (e.g., self-service, chatbots, analytics to improve processes) while also giving a great level of service to their customers. On the other hand, frontline employees and their managers are dealing with increasingly complex queries. This is where businesses must not focus purely on contact efficiencies and deflection! Businesses have a duty of care to not 'burn out' their employees, as the staffing levels vs customer demand is so tight. For example, something as simple as not being able to get a natural 'breather' in between difficult transactions with customers can have a deep and negative impact.  
But also – and as importantly – enterprises must remember that frontline employees will be dealing with potentially financially vulnerable and very emotional customers, which can take a toll on them. Frontline employees are everyday people just like the customers they serve, and they could be facing exactly the same challenges and vulnerabilities away from work.  
Centrical can help in several different ways: 
The learning elements of Centrical facilitates business agility in an ever-changing environment by enabling them to publish content and updates in a time of need. This could be solidifying soft skills to help employees deal with stressed customers, or perhaps to help with a new system and process adoption.

 

Using various game mechanics to elevate work and make it fun, thus strengthening the bond between the team and the manager.

 

Centrical enables managers to have well-being check-ins with employees for a reflection of how employees are coping with work or personal challenges.

 
AM: Ian, thank you for your time and insights!  
IC: Great speaking with you! 
"Reinventing the Wheel: Transforming the Employee Experience" is now available on demand. If you are ready to change the game for your frontline teams and want to learn more about how Centrical can help, schedule your personalized overview today! And don't forget to follow us on LinkedIn for Centrical news and updates, industry thought leadership, and more.