Learning and development is a critical component of the employee experience. Not only does this initiative create a well-trained, efficient workforce, but studies have shown that providing paths for personal and professional development and growth helps retain employees. But often, learning paths are filled with potholes, such as a one-size-fits-all approach, repetitive training, and manual, inefficient processes.
In this article, we'll discuss how organizations can make building paths much easier for managers, and more meaningful to employees.
Build a Learning Path Based on Time with Relative Dates
Whether onboarding a new hire or training a veteran employee who has switched roles, it is important to set that employee up for success with a learning path. The Centrical platform makes this easier for managers (and beneficial for employees) by enabling managers to build that learning path with relative dates. This feature ensures the delivery of the right content to employees at the right time based on their campaign assignment date.
For instance, a manager might build an onboarding campaign that reveals new missions each week. Or they might want to implement an upskilling course that has gradual growth. Either way, including relative dates will ensure relevant learning at an appropriate time. Let's have a look at an example—we'll call it a "Welcome to Company X" campaign. If the goal is to roll missions out in the first two weeks, it could look something like this:
An employee joins the "Welcome to Company X" campaign and sees the first mission, which is a video welcome from the CEO.
The next day, they receive a new mission with general policies and procedures.
At the end of that first week, they get a first-week reflection survey.
During the second week, three more role-specific missions are rolled out on Monday, Wednesday, and Friday.
The relative dates feature is flexible, and the rollout of these missions is based on each individual person's start of the campaign. You can even update the start of the campaign join date for each employee.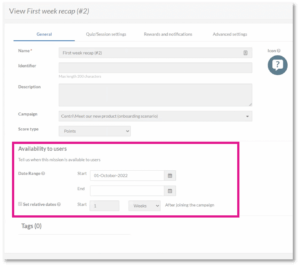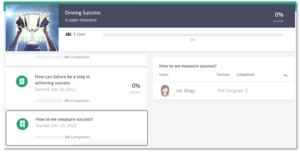 Roll over Learning Completion with Content Exemptions
Re-hashing training and learning when an employee already has that experience and knowledge is a waste of everyone's time. This is precisely why Centrical added Content Exemptions. When one piece of content is shared across campaign and learning paths, employees are exempt from completing content they've already mastered. For example, you can leverage content exemptions for:
Learning paths covering the basics
Campaigns focused on ongoing learning
When employees transition roles within the organization
Content exemptions help personalize your employee's learning journey by offering learning at the level they need. Plus, this gives you even more flexibility in creating scalable learning paths across games.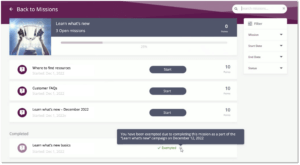 Implementing AI that uses employee knowledge and performance data to deliver relevant learning to the right employees at the right time is proven to maximize retention and impact. Want to see how you can build meaningful and efficient learning paths for your teams? Learn why leading organizations across the globe have partnered with us by watching a quick preview of what we do and requesting your personalized demo today!