We dedicate so much of our organization's energy and resources to customer journey mapping…why aren't we doing the same for our employee experience?
In this episode, author Annette Franz takes to the BOOST stage to talk about why (and how) companies should map out their employee experiences just as carefully as their customer experiences. Annette recently authored the book "Built To Win", which is all about creating a customer-centric culture by putting employees at the heart of everything.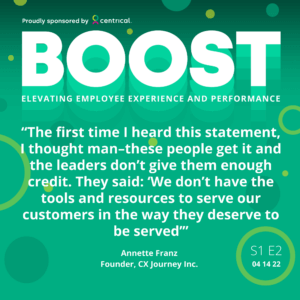 You'll leave this episode armed with some serious inspiration for your employee experience map, some tips on effectively measuring employee engagement metrics, and how to begin leaving a lasting impression on your employees from day one.
Key Takeaways:
A customer-centric culture starts with the employee experience
People before products, people before profits, people before metrics
Your hiring efforts will be useless unless you have a plan to engage your employees from day one
On with the show! Listen here.