"We're firing these Rare Breed talents for the same reason we hired them."
Talk about a mindblown moment! In this episode, Luke and Laura welcome author Sunny Bonnell to the BOOST stage to share more on her "Rare Breed" movement. Sunny is on a mission to empower leaders to harness the power of their most audacious, obsessed, weird, hypnotic, rebellious employees–all of these being "Rare Breed" traits that will, if fostered correctly, take your organization and its success to the next level.
Throughout their conversation, you'll be challenged and empowered to encourage your employees to wear their "rare breed" traits with pride–all the while, boosting morale, engagement, and innovation.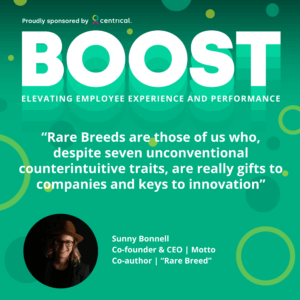 Key Takeaways:
Leaders need to encourage their employees' "Rare Breed" traits The whole culture of your organization shifts when "Rare Breeds" can be themselves
Leaders: invest in your people, but also invest in yourself.
Are you holding a mirror up to your own leadership?
On with the show! 
Listen here: