It's time for the moment of truth…
Or, rather, the moments–the ones that define your culture, your employee experience, and your customer success!
On this episode, Laura Patterson, President and Co-Founder of VisionEdge Marketing and author of Fast Track Your Business, joins BOOST to share the keys to providing a rockstar employee experience, and why even the littlest moments matter in creating experiences that impact your bottom line. We discuss how CX and EX both affect each other, why culture sets the foundation for business success, and how to progressively empower your employees.
Key Takeaways:
3 key components of organizational success
How to progressively empower employees
"Moments of truth" that define your CX and EX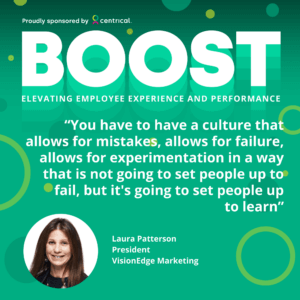 Alright, enough from us – press play! On with the show! Listen here.