The way we learn has completely changed in recent years, driven primarily by technology. Learning Management Systems (LMS) and eLearning have made any kind of learning more accessible. And now with LMS gamification, learning has taken another massive leap forward.  
In the past, learning was generally centralized in one location, and usually took the form of long-form courses. Think of a corporate head office, presenting a seminar for new employees.  
Today, this same learning can take place anywhere, and be packaged in a much better way. Users can access LMS material through a mobile app, engage in microlearning at their own pace, and benefit from LMS gamification that makes this whole process more engaging, exciting, and effective.   
Let's take a deeper look at how LMS gamification can motivate learners and improve corporate eLearning. 
What is LMS gamification and who needs it?
LMS gamification is the use of elements borrowed from gaming to make learning more engaging. LMS gamification leverages elements such as the collection of coins, moving up levels, game narratives, badges, and leaderboards. These techniques transform the learning experience, draw people in, and motivate those involved to continue learning and improving.  
LMS gamification can be used by anyone who has material they want to present, or learning objectives they want to achieve. LMS gamification has successfully been used in schools (including higher education) and now is proving enormously valuable when it comes to corporate training and eLearning.  
Consider a new employee being onboarded: instead of sitting through a lecture, they can be immersed in a fun, engaging experience that feels like a game – complete with coins, levels, and leaderboards. And as they learn about the company's corporate culture, they can stay motivated and engaged by solving challenges, earning badges, and more.  
This is supported by research: in a well-known study entitled "Can gamification help to improve education?" The authors showed that gamification in learning "led to increased levels of knowledge retention." 
Clearly, LMS gamification is not only fun and engaging, but it's also highly effective.  
The impact of LMS Software on corporate training
LMS software, and particularly LMS gamification, has a powerful impact on corporate training. For trainees, LMS software has enabled corporate training to become more personalized, engaging, and impactful.   
For the organization itself, LMS software has created a whole new level of flexibility, added new educational tools to the toolkit, and ultimately driven exponentially better results across metrics, from course completion rates to increased skill levels.  
How to choose an LMS gamification platform for your workplace needs
For most organizations, having an LMS gamification platform is a must. But how do you choose the platform that's right for you? Here are some key elements to look out for: 
Flexibility 
Your LMS gamification platform should be able to adapt to your organization's needs. There should be a high level of customization available, while also having multiple options in terms of pre-built gamification features.  
Full suite of gamification options 
Related to this, the type of gamification offered is critical. The best gamification platforms have diverse options such as exciting game narratives, points collection, levels, badges, leaderboards, and more.  
Support 
Having support on hand is super important, especially as you get started. Make sure the company you choose for your LMS gamification is legitimate, with real support functionality. 
Validation 
Who else uses this product? Are you in good company? Look for logos and case studies from real companies that use the product.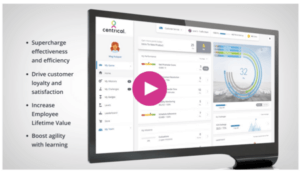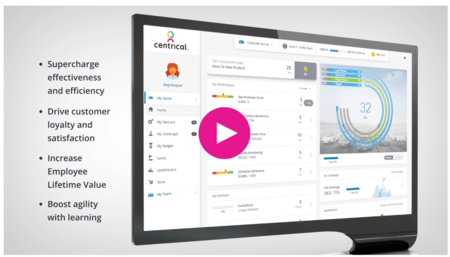 See Centrical in action with a quick preview. 
Top 7 gamified learning management systems
What are the top platforms when it comes to a gamified learning management system? Here, we feature the top seven: 
Centrical
Centrical is the comprehensive, all-in-one industry leader when it comes to LMS gamification platforms. With customers including the likes of Microsoft and Verizon, the Centrical platform's technology has consistently set the bar for the rest of the industry.  
From bite-sized learning moments that can be consumed throughout the day, to videos, interactive simulations, quizzes, and more. Centrical delivers corporate training through gamified learning that is unique, timely, and super-relevant. 
Moving a level deeper, the Centrical platform is hyper-personalized, so that companies of any size can deliver the right learning at the right moment, to the right employee. AI drives this personalization at scale, and together with refreshers and other reinforcement techniques, it drives greater knowledge retention.  
To see how Centrical's LMS gamification works and the incredible effect it can have on your organization, request a personalized demo.  
Mambo.IO
Mambo.IO is a UK-based provider of gamification solutions. The company aims to provide seamless gamified experiences to engage employees and customers. Features include real-time feedback with notifications, defining and tracking user behaviors, visibility into insights and measuring impact, setting KPIs, and measuring and rewarding progress.  
Funifier
Funifier is focused on providing flexibility when it comes to engagement solutions. The platform allows users to increase engagement, connect with audiences across channels, monitor results generated through engagement, and provides resources for developers to build custom features and integrations.  
Gametize
Billed as "the world's simplest enterprise-grade gaming platform," Gametize is about creating simple gaming experiences quickly, often in under 5 minutes.  The platform provides interactive challenges, instant feedback, competitions, rewards, and more.  
Archy Learning
Archy learning calls itself the "global classroom," and offers portals for instructors and learners. It features many integrations and allows users to gamify learning experiences. It is used by course content creators to set up courses and make them more engaging.   
TalentLMS
TalentLMS enables the simple setup of new material, including ready-made courses available in a course library, or allowing users to create their own courses from scratch.  
Hurix Digital
Hurix Digital is an online teaching platform that creates customized corporate learning solutions for businesses. The company caters to a range of use cases from higher education to workforce learning.  
Examples of successful LMS gamification in eLearning 
A recent example of successful gamification in eLearning was when Webhelp partnered with Centrical to drive performance and engagement through learning.  
Webhelp – one of Europe's biggest business process outsourcers (BPOs) – approached Centrical to find new ways to accommodate its employees and maintain its competitive advantage. They identified eLearning, and specifically shorter and more powerful learning experiences, together with gamification. Centrical executed on this vision, and the results were phenomenal: a 50% increase in "Faster to proficiency" rate during agent onboarding, and a 6% reduction in short-term absence, to name just a few.  
Centrical Solutions for LMS gamification
Centrical offers the ultimate solution for LMS gamification for all organizations, from mid-market to large multinational enterprises.  
From onboarding to ongoing training, feedback, knowledge sharing, and more, Centrical's powerful platform and extensive suite of gamification options make it the go-to solution for companies seeking results. 
You can watch a video preview of Centrical in action by clicking here. 
Final Thoughts
In summary, LMS software has completely changed learning, and LMS gamification has turbocharged the effectiveness of LMS systems. A few key takeaways: 
E

mpirical evidence

demonstrates

that gamification in learning leads to increased knowledge retention

 

When

looking at

LMS gamification platforms, consider factors such as their existing customers, platform flexibility, gamification options, and available support.

 

LMS gamification

provides

companies

with

enormous benefits, including accelerated onboarding, reduction in short-term absences, and more.
The bottom line? Companies should incorporate LMS gamification to drive results, and through this, they can also enjoy a happier and more productive workforce. Learn more about why leading companies have partnered with Centrical for employee learning and training by requesting your personalized demo today.