"My advice to young women is to not be afraid of the unknown and keep critical thinking all the way. Always ask questions, stay open to hear the answers, and challenge the facts. Critical thinking helped me to always strive for excellence and growth."
Next in our Women in Leadership series, in honor of Women's History month, is our Chief Customer Officer Daphne Saragosti.
Daphne has over 15 years of experience in Customer Relations and Retention in both B2B and B2C environments. Her area of expertise is leading customer success, consulting and global professional services teams within public and private sector companies. She is focused on leading teams to grow the partnership with our clients. Prior to Centrical, Daphne worked software and service companies in the online marketing and gaming industry.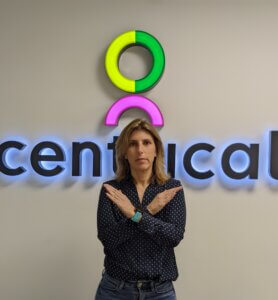 Here's what Daphne had to say:
What does Women's History Month mean to you?
I wish we wouldn't need to celebrate Women's Day in 2022 but the truth is that the pandemic, in the past 2 years, made this day relevant again. Raising the topic of gender equality as well as any other race equality, like last month with the Black History month; is important in order to increase the consciousness of everyone and the importance of the topic.
As a mother of 2 girls and 2 boys, I am trying to give them everyday; an example of professional and personal individual accomplishment. My husband and I praise through personal examples the values of gender equality, and mutual respect.
What is your proudest accomplishment in your career so far? 
There is not one accomplishment but rather moments of accomplishments: for example  when someone I have worked with in the past; wants to come and work with me again or when I face a challenge that requires some outside of the box thinking and I succeed to unlock the situation. What I like the most, while working at Centrical in the past 5 years; is that my current position is a constant journey to challenges and growth.
Who is a woman that has inspired you most?
It will sound like a cliché but my mother and my grand mother have inspired me all my life. Both are/were strong women that took their path in their hands. My mother decided to begin her own entrepreneurial business when she was 30 years old, a year after she had her second child. It was in the 80's and there was not a lot of room for women in the business life. She overcame all the obstacles along the year and succeed to constantly refresh the offering of her business. Today 40 years later, she is still leading this business very successfully. 
What advice would you give to young women who dream of being business leaders in the future?
Not to be afraid of the unknown and keep a critical thinking all the way. Always ask questions, stay open to hear the answers and challenge the facts. To me I think that my critical thinking helped me to always strive for excellence and growth.
Stay tuned for more inspiration from leaders like Dalit for the month of March!