What if we treated our employee experience like it was a performance?
(You didn't think we made this a variety show for nothing, did you?)
On this episode, influencer and author Dennis Wakabayashi takes to the BOOST stage to share all about how his experience at Expo 2020 Dubai changed the way he thinks about creating experiences for employees.
Dennis shares not only his incredible stories from Dubai, but also his tactical takeaways for how you can implement storytelling in your EX strategies, celebrate employees in creative ways, and how corporations can start thinking of "the needs of the few", first.
Key Takeaways:
The importance of creating employee-facing content that is "edutaining"
How to create a business model that is intentionally story-driven
What a good corporate culture looks like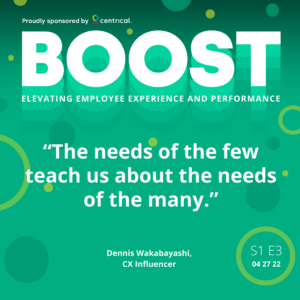 On with the show! Listen here.